5 Questions to Ask a Criminal Defense Lawyer
Ask these 5 questions to any criminal defense lawyer before you hire one.
Otherwise, you may end up with a lawyer you are not happy with.
You want to know your lawyer has experience dealing with cases that are
similar to yours; that you won't be overcharged or charged hidden fees;
and that this lawyer will be available when you need to talk.
1. Have you won cases similar to mine?
You want to know that the lawyer understands the laws related to the offense(s) you are being charged with, and has a plan on how to defend your case!
You want to make sure the criminal lawyer has the ability to recommend the best course of action to defend you. For instance, getting a psychological review of yourself as a possible aid in your defense.
Make sure to ask lawyers, prior to hiring one, what type of success they have had with cases similar to yours.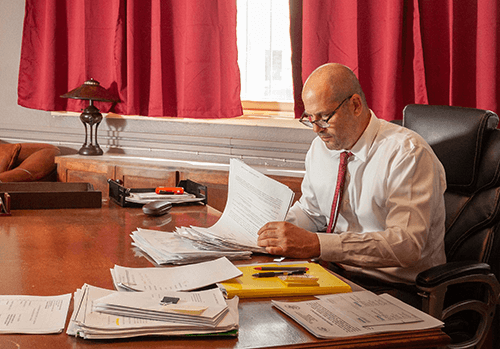 Jacob Amaru: An experienced criminal defense lawyer
What I can assure you of:
I have represented people on almost every type of case imaginable. When you meet with me, I will explain in detail the various ways I intend to defend your case.
2. What will this cost me?
Will the fee be a onetime fee that includes all the services provided by the lawyer or will there be additional fees for such things as going to trial? You want to make sure you have an idea how much this lawyer will cost you in the end prior to hiring him/her.
Some lawyers will include all fees and service charges in one amount and will let their potential client know what this charge is. Other lawyers charged based on the service provided or by the hour. By not understanding the fees a lawyer may charge to defend you, you may end up paying a great deal more then you first thought.
What I can assure you of:
I charge people a flat one time fee. Depending on the case, I usually charge one fee to investigate and negotiate a resolution you are happy with. If the case is going to trial, there is an additional flat fee. I pride myself in being upfront and realistic with my clients about costs and I am always willing to do monthly payments.
3. Do you have the time to handle my case?
There is nothing worst than hiring an attorney and not being able to get a hold of him/her. You will want to make sure that the lawyer you plan to hire has time to answer your questions and is available to you if you need him/her.
Also, make sure that the lawyer you plan to hire is going to be the one handling your case. Some larger law firms will pass off cases to lesser experience lawyers that work in the firm. Ensure that the lawyer you hire is the lawyer that will show up in the courtroom with you.
What I can assure you of:
If I don't have the time to handle your case I will not let you hire me.
4. Did you defend clients in this jurisdiction?
You want to make sure your lawyer has experience in the jurisdiction in which your criminal case is pending. A lawyer that knows the judges and prosecutors will be able to provide you with a better understanding of how things work in that jurisdiction. This will benefit you because when a judge and/or prosecutor knows the lawyer you are considering hiring, theycould be more likely to take into account what your lawyer has to say.
A lawyer with a good reputation with the judges and prosecutors in a particular jurisdiction (especially smaller jurisdictions) will be more trustworthy and may be able to get you a better deal than a lawyer with no reputation in that jurisdiction.
What I can assure you of:
I only take cases in Southern Arizona.
5. Are you willing to take my case to trial?
Find out if the lawyer would be willing to take your case to trial, even if this is not something you are considering. This will help you determine if the lawyer will do everything to defend you.
Also, find out what type of results he/she got. If the prosecuting attorney is intimidated about going to trial with the lawyer you hired, it may help you in your defense.
What I can assure you of:
I like going to trial! I became an attorney so I could try cases. I have tried many, many cases, and won more than my fair share of them! Check out the Results section to see some of my prior trial results.
After asking these five questions to a criminal lawyer you are considering hiring, you should be in a better position to determine if this lawyer is right for your case... or not.
Listening to your gut when making this decision is as important as thinking about it! By asking questions and listening to yourself, you should be able to get the best lawyer for your situation.
Would you like to discuss your case with Jacob but without committing yourself to hiring him?
This form will enable us to make a first contact. Your personal information remains confidential.